After the largely successful sampling of all five selected species in 2021, the missing false heath fritillary, Melitaea diamina, populations will be sampled this year. In addition, 200 contemporary populations of Hare's-tail cottongrass, Eriophorum vaginatum, will be sampled for retrospective monitoring of genetic diversity. Where possible, these will be collected from similar places as the 200 historical samples from collections and museums. The over 200 historic samples of Eriophorum and 200 samples of Melitaea are currently being processed in the clean-lab and will soon be sequenced.
As a consequence of the rainy and cool weather in spring and summer 2021, some populations of the false heath fritillary could not be successfully sampled. Therefore, 10-15 populations of the false heath fritillary will be resampled this year, mostly in eastern Switzerland. The collection points were chosen more specifically to increase the chance of successful sampling in the second trial. Since the false heath fritillary is also studied retrospectively, in addition to the recent specimens, specimens from museums the same place of origin, if possible, are also studied. The collection points were slightly optimised for this purpose without compromising our proportionally stratified rantom sampling strategy. This is because it is important that the location of the historical and present-day material coincide as closely as possible, as otherwise geographical rather than temporal differences in genetic diversity are inferred.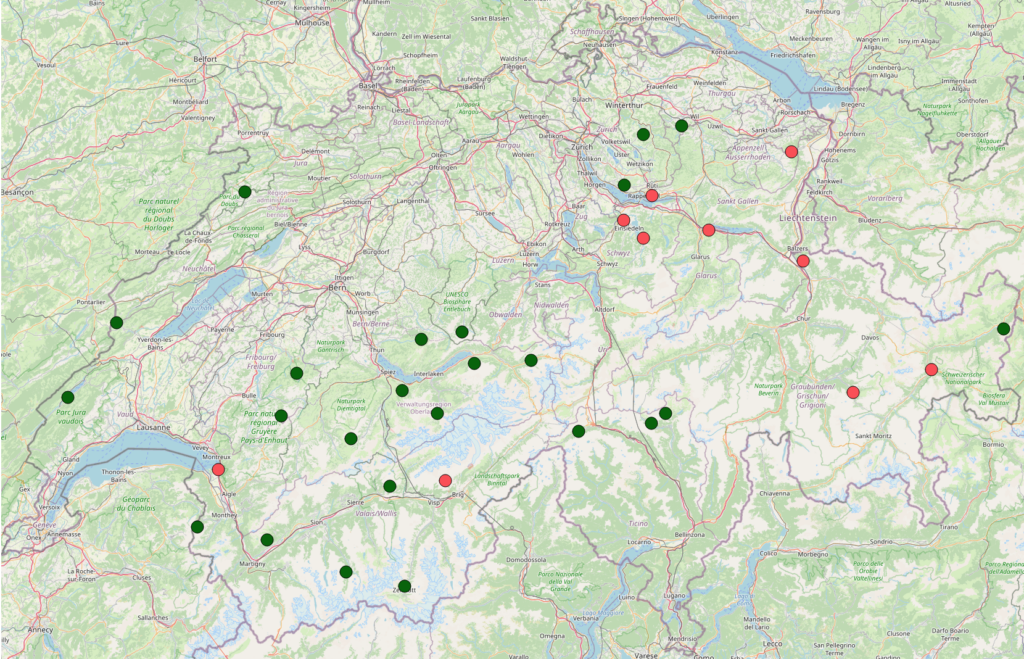 For the retrospective analysis of Hare's-tail cottongrass (Eriophorum vaginatum), about 200 populations are sampled. The aim is to sample a population of each selected herbarium record, which are between 70 and 150 years old, as close as possible to the historical site. The difficulty is to match the approx. 100 year old field descriptions on the labels of the herbarium specimens with today's field descriptions on the maps and to find potential sites where there is a chance to find and sample the species today. This is especially difficult when the landscape has changed considerably due to human activity. With the populations sampled this year and the approximately 100 years of herbarium specimens, it should be possible to carry out analyses that provide information on whether certain locally adapted plants have come under particular pressure. This is particularly relevant with regard to the massive loss of Hare's-tail cottongrass habitats (predominantly raised bogs), which has mainly taken place on the Swiss Central Plateau in recent centuries. In addition, it should be possible to determine whether genetic diversity in this species has changed over the time-period studied.