Emberiza citrinella
The knowledge of various experts was included in the selection of the bird species.
Profile
Characteristics

Male: intense yellow head and underside, upperside rich brown with strong longitudinal stripes, rust-coloured rump, white tail edges.
Females: duller colouring, underside more heavily striped
Body length 16-17cm, wingspan 23-29 cm

Food

Insects, seeds
Yellowhammers often forage in cultivated land along fields, ditches and unpaved roads.

Habitat

Inhabits transition zones between forest and open landscape

Especially hedges, e.g. in cultivated land
Forest edges
Orchards
Vineyards

Best conditions offered by traditional agriculture and horse husbandry

Breeding

The breeding season lasts from April to August. 2 broods per year with 3-5 young are common.
The young birds leave the nest after 9-14 days.
Nap nests on the ground or near the ground at the edge of hedges

Migratory behaviour

Resident and short-distance migrant

Distribution

In Switzerland, the yellowhammer is most common between 400 and 800 metres above sea level in the Central Plateau and Jura and in the central Valais and Lower Engadine.

At higher altitudes (>700m) the population is declining.
At lower altitudes, such as in the cantons of Vaud, Bern, Lucerne and Zurich, the population has increased.
Europe's most widespread and common bunting
In Europe as a whole, populations tend to decline.
---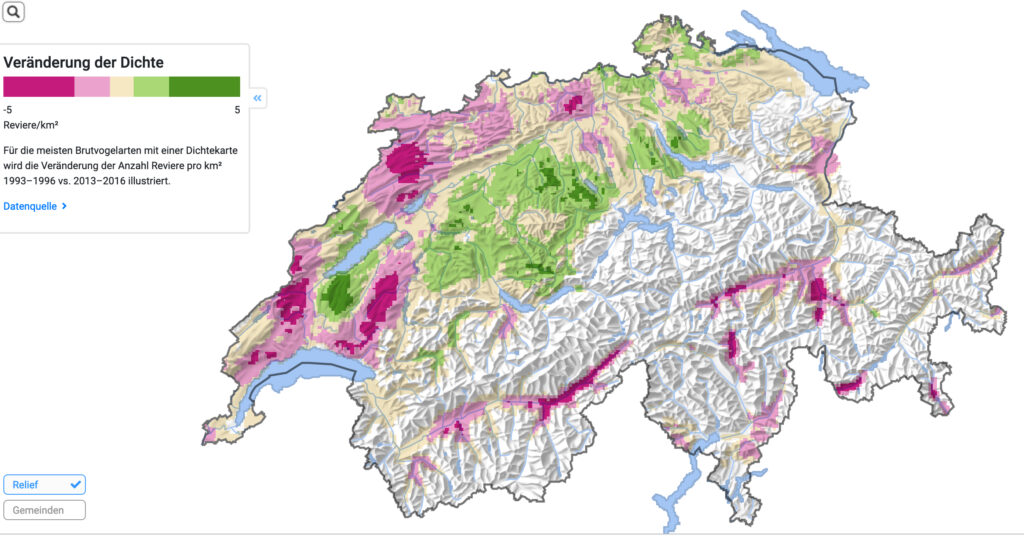 Endangerment and conservation measures

Red List Status (Switzerland): Least concern (LC)
The intensification of agriculture and land consolidation have reduced the food and habitat availability of the Yellowhammer.
The population started increasing since the 1980s, when more hedgerows were planted at lower altitudes and additional wildflower strips were created
The use of pesticides could have a negative impact on the population.
Source: https://www.vogelwarte.ch/de/voegel/voegel-der-schweiz/goldammer